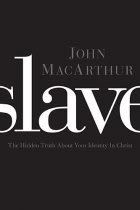 Title: Slave: The Hidden Truth About Your Identity In Christ 
By: John MacArthur 
Official Book Description: 
Best-selling author and pastor Dr. John MacArthur reveals one crucial word that revolutionizes what it means to follow Jesus. Throughout the Bible, followers of Jesus are commanded to submit to Him as their King. They are told to obey and follow, faithfully and without hesitation. 
Every time Christians utter the word Lord, they make a subtle yet profound declaration—that God is their Master and that they belong to Him. In fact, the Bible describes believers as His slaves. They have been bought with a price and now live for Christ as a people for His own possession. But go into most churches today, even flip through most Bible translations, and you won't see or hear the word slave anywhere. That's because it has been lost in translation. 
In this gripping book, Dr. John MacArthur uses deep Bible teaching and historical evaluation to expertly uncover the one forgotten word that restores the Bible's definition of true Christian freedom. 
My Review:
I wasn't quite sure what to expect when I got this book on my
Kindle
a few days ago. But after reading the first chapter I knew I'd enjoy it. 
Although I don't agree with MacArthur on some issues (eschatology) we are alike in that he teaches from the Reformed view. I'm guessing that some people who pick up this book will take issue with the parts of the book that discuss this -- specifically predestination, but I urge those who do not hold to that to still get the book and read it. Others may argue that it's "works based" theology. It's not. We serve as slaves to the King of Kings and Lord of Lords. Our master is good, just and perfect. We're not working to earn His favor or our position in heaven. MacArthur brings this out continually in the book. 
The only reason I don't feel comfortable giving it a full 5 stars is because several times as I was reading the book I felt like I was just reading the exact same thing I read a few moments before, put in a slightly different way. It's a great book. I'll be recommending it to many people. I urge you to get a copy and read it for yourself. 
 I received this book free from the publisher through the BookSneeze.com book review bloggers program. I was not required to write a positive review. The opinions I have expressed are my own. I am disclosing this in accordance with the Federal Trade Commission's 16 CFR, Part 255